Ultimate Tailgaters BBQ
Ultimate Tailgater news, Chris Fulmer wins Myrtle Beach $10,000 BBQ Contest, Aiken SC BBQ Contest, and honored as Best President at a Gamecock Club President mid field during the North Carolina-South Carolina Game! Get in touch with The Ultimate Tailgater and learn how to Tailgate from the best ever in the Business!


Radio Host Monday Night 7pm Est- Tailgating, BBQ Competition, College Football
Grand Championship Cook, Southern BBQ Network, South Carolina BBQ Association
World Champion Tailgating Competition
Texas Pete World Champion Tailgater
National Collegiate World Champion 2012, 2013
South Carolina Gamecocks Board
South Carolina Gamecock Fan
South Carolina Spring Game Tailgate Champion
Chris and Cathy Fulmer make up the Greatest Tailgate Team of all time!
August 31st-September1st. Grand Champion Myrtle Beach $10,000. Winner Aiken South Carolina BBQ Contest, honored mid field at William Brice Stadium as the Best President of a Gamecock Club in South Carolina August 31st to Sept 1st.

Ultimate Tailgaters BBQ is a competition cooking team + operates a BBQ catering business. We would love to bring our award winning BBQ to your next event. We have catered events from 25 – 300 people. We cook everthing onsite to give your guests the best possible meal.
Give us a call at (803) 270-7050
Testimonials
Thanks so much for everything. All we have heard is how great the food was and you all couldn't have been nicer or more helpful. This was the first year we have ever had a "sit down" dinner and it ended up working out great. Hearing…"Best BBQ I have ever had" says it all. For me, I definitely agree with Caroline Johnson and it was the…"Best Banana pudding EVER" as well. I took home my half of the pan that was left over and ate the ENTIRE thing myself. 🙂
I have told them that we need to just change our Brennen auction to be BBQ every year and just change the music part of it to a different theme – I don't know what they will decide to do, but if it is BBQ, I will insist we have you back.
Thanks again – it was REALLY great working with you.
Cara Turner
Brennen Elementary Auction
Columbia, SC
Testimonials
What a great 50th Wedding Anniversary party that Ultimate Tailgaters BBQ catered for us. Having over 50 people in my home was quite a task but with the outstanding food and catering you provided made the event much easier and memorable. Everyone raved about the dinner and how great it was to have such nice people handle this aspect of the party for us.
My family can not thank you enough for helping celebrate my parents life together with a fabulous selection of meat and sides. I plan on spreading the word to everyone who needs someone to handle catering for any event in the future, to call Ultimate Tailgaters BBQ.
Thank you both again for all your help!!!!!
Will & Laura Fowles
50th Wedding Anniversay Party
Columbia, SC
Flip Week: South Carolina
Editor's note: During Week 12, 10 ESPN.com reporters changed conferences to experience college football in unfamiliar territory. Here is what they learned.Recall last month that the ESPN reporters flipped out for a few days and ventured to parts of the country unknown to them.This Southern California boy was transported to a different South. Not going to lie — most of what I knew about the South I learned from catching snippets of the Blue Collar Comedy Tour on TV. I could already see the "you might be a redneck" texts coming from my buddies. My cable guy neither looks nor talks like Larry.
[+] Enlarge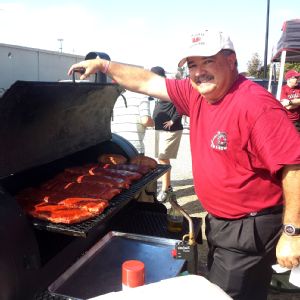 Kevin GemmellSouth Carolina fans welcomed a West Coast native to their tailgate before the Florida game Nov. 16.
But that wasn't what I got. Instead, I was welcomed with open arms by warm people who love their food, love their friends and love their football. I spent a great deal of time with a group called "The Ultimate Tailgaters" who wouldn't let me leave with an empty stomach or empty arms. There were hugs all around.
I saw Florida fans and South Carolina fans mingling — and talking a little bit of trash. I saw cocktails toasted, toured a Cockaboose and learned a great deal about a region of the country I knew little about.
Excited but admittedly a bit apprehensive about what I'd encounter, I'm happy to say I left richer for the experience.
Best meal: A good burger in Southern California is a good burger in Columbia, S.C. So checking out Pawley's Front Porch in Five Points with a few of my new USC friends was all well and good. But honestly, the best food I had was wandering from tailgate to tailgate trying out the local fare. From boiled peanuts and fried gator tail to the briskets, ribs and sausages, the tailgating grub was outstanding. And I do find it humorous that I can get better pulled pork in the Columbia, S.C., airport than I can in San Diego.
Must-see sight in Columbia: I loved the history of the region (which I'll get into in the next section). But aside from seeing good football and some great historical sites, one absolutely must take a stroll through The Horseshoe — the old part of campus. It's obvious why "College GameDay" picks this venue to set up at when it visits Columbia. The leaves were turning and it was simply beautiful. I could picture myself 20 years ago as a student, parked under a tree with a cup of coffee furiously trying to make sense of Immanuel Kant.
Biggest surprise: As noted, I found the history of the area fascinating. I'm no Civil War buff, but it always interested me. In Pac-12 country, when we talk about the Civil War, it refers to Oregon's recent dominance over Oregon State. But hearing how most of the college was spared during the Civil War because it was converted into a hospital, and seeing the George Washington statue in front of the state house (allegedly once used as target practice for Confederate soldiers) was engrossing. So the biggest surprise to me was how much the Civil War is still such a part of the daily culture and community, for better or worse. It's something we simply don't think about on the West Coast.
Biggest difference from the Pac-12: The football wasn't all that different. The SEC has speed. The Pac-12 has speed. In fact, there was a play when Shon Carson broke off a 58-yard run and got caught from behind by two defenders in the open field. I remember thinking to myself, no way Ka'Deem Carey or Bishop Sankey or De'Anthony Thomas gets caught from behind (SEC fans, no doubt, will attribute that to the league's superior defensive speed).
I have been to many Pac-12 games hours in advance where the lots are only half-full. But eight hours before kickoff in Columbia, the traffic on Bluff Road rivaled the 405 at 5 p.m. on a weekday. SEC folks come out early and make it a full day. There are some Pac-12 fans who do as well, but a lot more in the South.
They said it: My outstanding tour guide for one of the days was Cory Burkarth, a member of USC's sports information department. I asked him how folks from South Carolina refer to Californians like myself. To which he replied: "You're not from the South. You're not a Yankee. If you're from the West Coast, you're a hippie." I laughed and bought him a burger.
If I could go back: I'd sit in the student section and jump up and down during the players' entrance to "2001: A Space Odyssey" and wave my towel every time "Sandstorm" is played before a kickoff. I was on the field for it, several times, but the vibe and energy coming from the stands was intense. And, next time around, I'll be sure to refer to our USC as Southern California. Lesson learned, Columbia, and thanks for the hospitality.